From time to time I have people come in my store and ask if I have any books about "Miss Hatties." I don't because there wasn't a Miss Hatties. So, I did some research of my own, and prepared the article below about the real bordello that was two blocks down the street from the mythical "Miss "Hatties."
The Real Bordello of Concho Avenue
by Felton Cochran
Most of the stories that are told today about the fictional "Miss Hattie's" were borrowed from tales originally told about a whorehouse that actually did exist two blocks down the street at 110 West Concho. It was owned by Cynthia Malone who was born in Kaufman County, Texas, in 1875, and came to San Angelo in 1909, set up shop and operated for several decades as a successful madam on Concho Avenue. During that time, she accumulated a wealthy estate, which included ranching and commercial properties in and around San Angelo. She died in 1953, and is buried at Fairmount Cemetery (Block 75A, Lot 10). Her nickname -- "Honey"-- is engraved under her real name on the tombstone. (She was also reported to have used a working alias, Grace Hallaway (sometimes spelled 'Holloway').* This name was listed at 110 W. Concho in the San Angelo City Directories of 1915-16, 1918, and 1925. In 1949 through 1952, the occupant is listed as Cynthia Malone.)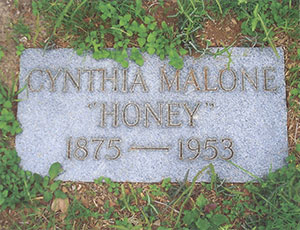 Her relatives, who inherited the estate, came here from Kansas after she passed away, and still reap the benefits of those assets. Her old two-story house – the real bordello --was eventually purchased in 1956 and moved to its present location at 602 Elm Street at the westbound service road of Houston Harte Freeway, just across the freeway from Central High School. It's a two-story bed-and-breakfast property that faces west – you can't miss it. It was the real bordello of Concho Avenue. [See photo below.]
About Miss Hattie's: Ross McSwain once wrote in his weekly "Out Yonder" column: "I find it interesting that San Angelo's claim to fame is a whorehouse that never really existed." He was referring to the myth of Miss Hattie's, a fiction that was created back in the 1980s by Evelyn Hill, who owned an antique store where Legend Jewelers is now located. Ms. Hill had an empty upstairs that she wanted to do something with, so she rounded up antique furnishing and other items to create a fictional bordello. (This writer owned a used furniture store at the time, and even sold and delivered to Ms. Hill some old metal bed springs found in an old estate on Bowie Street in north San Angelo. I believe those bedsprings are still there in the "museum." Also, in 1953, I worked at the Roxy Theater located next door at 22 E. Concho--where Joyce Wilde is now. There was no whorehouse or rumor of one when I worked there!) Ms. Hill charged a fee to view the "museum" and made up some stories to go along with it, even hired some local girls to dress the part and re-enact as 'Ladies of the Night" in gaudy attire.
Ms. Hill also created the story about there being a tunnel from the bank to the bordello. Although there have been claims that evidence of a tunnel was found, no one has shown actual proof of a tunnel--probably a basement, or cellar. Look at it logically – what banker in his right mind would allow underground access to his bank from an illegal business operated and patronized by criminals? But, if that's not enough, there's this: The bank left it's location on Concho Street (where Miss Hattie's restaurant is) in 1903—the building where the supposed 'bordello' was located wasn't built until the winter of 1910/11.* There were no tunnels. The so-called tunnel found at the Jesse Rose Building was most likely a 'liquor locker' for hiding illegal potables during Prohibition of the 1920s.*
(*This information came to me from Suzanne Campbell, director of the West Texas Collection at ASU.)
A few samples of the occupants of 18 and 18 ½ E. Concho in the San Angelo City Directories show these listings: [18 ½ E. Concho is the present location of the 'museum.']
1908 - At this time, the addresses on the north side of Block 1 were 302 (Arc Light Saloon), 314, 316, 320-322, 324, 326 [Clark Gro. Co.], 328, 330-332, 334 (Star Meat Mkt) 336, 338, & "NW corner." What would become 18 & 18 ½ E. Concho in 911 was a vacant lot in 1908, 1909, 1910 City Directories. The building where the current 'museum' is located was built in the winter of 1910/11.*
1911- 18 E. Concho = R.V. Taylor; 18 ½ E. Concho = vacant.
1914-15 18 E. Concho = Dial-Brian Auto Co.; 18 ½ E. = vacant
1915-16 – 18 E. Concho = vacant; 18½ E. = Mrs. V.B. Ligon
1917 - 18 E. Concho = Crystal Billiard Hall; 18 ½ E. = Colonial Flats
1918-19 = 18 E. Concho = vacant; 18 ½ E. = vacant
1925 - 18 E. Concho = H. C. Johnson and Mrs. Alma Johnson; 18 ½ E. = vacant
1927-28 18 E. Concho = N.T. Arrowhead, Crystal Barber Shop; 18 ½ E. = J.C. Coplin & Mrs. Hazel Coplin
1949 18 E. Concho = Concho Hatchery Supply; 18 ½ E. = Hotel Hoff; Mrs. Millie Dodson
1952 18 E. Concho = National Car Rental; 18 ½ E. = Troy Hotel
1954 18 E. Concho = vacant; 18 ½ E. = vacant.
1956 18 E. Concho = B & B Trading Co.; 18 ½ E. = vacant
The bank at the location where Miss Hattie's Restaurant is currently located moved from that building in 1903. According to the San Angelo City Directories from its beginnings in 1908, there was never another bank located there, or in that block.
The San Angelo City directories for 110 W. Concho – where the real bordello was located -- show Cynthia Malone using the alias, Grace Hallaway [sometimes spelled 'Holloway'] from 1915-16 through 1928-29 and as Cynthia Malone from sometime in the early 1930s through 1952. She died in 1953. Below is a photo of her home ("boarding house") that was moved from 110 W. Concho and relocated to 602 Elm street in 1955 or 1956. That address is listed in 1956 as "Apartments" with four tenants listed as residents. Prior to 1956, that address was vacant.
THE REAL BORDELLO OF CONCHO AVENUE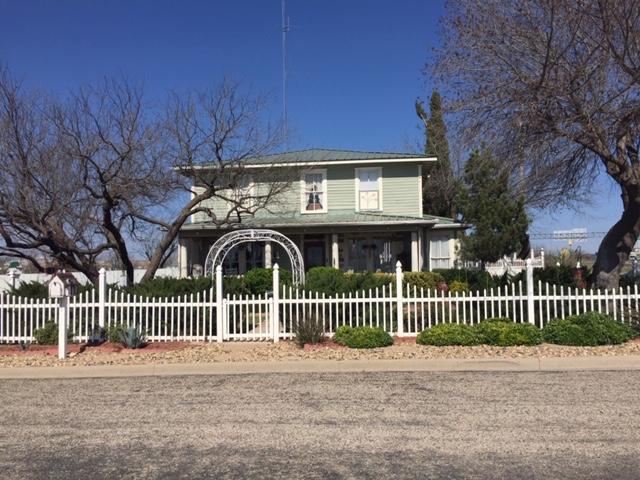 602 Elm Street – this building was relocated here from 110 W. Concho in 1955 or 1956 (It is currently a bed-and-breakfast)
PS: In 1953 I worked at the Roxy Theater (where J. Wilde's is located now) which is next door to 18-1/2 E. Concho, the museum building. There was no whorehouse there, or hint of one ever being there. Believe me, I would have known if there was!
Some pals and I did, on occasion, talk to the working girls at 110 West Concho through a back window—we never went inside, of course, just teased back and forth with the girls. We were young pre-teens at the time, about 11 or 12-years old.