WE'RE OPEN FOR MAIL-ORDER AND DELIVERY: For the duration of the Covid-19 crisis we will be available to take your phone calls and emails for orders and inquiries!
FREE HOME DELIVERY within San Angelo city limits ($24.00 minimum)
Delivery hours: Monday through Saturday = 9:00 am to 10:00 am
Monday, Wednesday, Friday = 5:00 pm to 6:00 pm
We're open with limited access: 4 folks at a time (families of five permitted!)
Browse the buttons on the left for a partial list of books we have available.
PHONE US: 325-659-3788
E-MAIL US: cactusbooks@suddenlinkmail.com
SCROLL DOWN THIS PAGE FOR A LIST OF NEW READING SUGGESTIONS!
We're quite proud to have received the True West Magazine "Best of the West" Award for
"BEST WESTERN HISTORY BOOK STORE FOR 2020"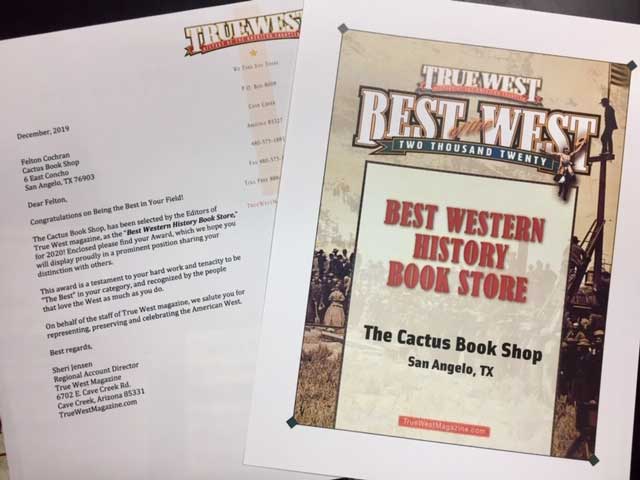 A note of introduction from the proprietor, Felton Cochran:
In 2019, my store was featured on Bob and Kelly Phillips' "Texas Country Reporter." It is repeated from time to time on the RFD Channel. Also, in January, 2020, Cactus Book Shop was honored by the national publication, True West Magazine as "Best Western History Book Store." I was quite proud of both of these honors.
If you're ever in San Angelo, please stop and visit. My hours are 10:00am to 5:00 pm Monday through Saturday. I accept major credit cards, and I'm happy to take your out-of-town checks with proper identification.
I've been a serious bookseller since 1995. (Before that, I was a serious book collector for many years.) When you visit my shop, you will find an ever-changing inventory of Texana and Western Americana -- floor-to-ceiling, and wall-to-wall. I'm particularly proud of my Texas County and Regional History section which takes up over 70 linear feet of shelving! I also offer large selections devoted to Range and Cattle; Texas Rangers; lawmen and outlaws; Frontier Military and Forts; The Texas Revolution and the Republic of Texas; Spanish Exploration and Influences in Texas; The Mexican Revolution; Westerner biographies. And there's a sizable section of fiction by Texas and Southwest authors. And there's so much more…leather-bound classic literature, children's classics, etc.
CACTUS BOOK SHOP is located in the heart of San Angelo's downtown historical district at 4 East Concho Avenue. You can call me at 325-659-3788, or contact me via e-mail at cactusbooks@suddenlinkmail.com . Or just come on by--I think you'll be glad you did.

If you can't get out this way, then you might want to sign up for my monthly Texana Catalog. It's easy, and it's FREE! Scroll down this page for the catalog request form. Thank you!